Galentine's Day with my GIRL TRIBE!
Leslie Knope loves Galentine's Day and so do I ! I think we can all agree that Parks and Recreation started a wonderful traditional for gals all around the world .
"Oh, it's only the best day of the year. Every February 13th, my lady friends and I leave our husbands and our boyfriends at home, and we just come and kick it, breakfast-style. Ladies celebrating ladies. It's like Lilith Fair, minus the angst. Plus frittatas." - Lisa
You heard correctly ... ladies leave your man at home ! Galentine's Day is a day of celebrating with your girl tribe . I'm so thankful for such a supportive group of friends . My tribe inspires me everyday . As we get older, it gets harder and harder to get everyone together ! I try to carve out some time with friends, whether it's a quick HH after work, shopping date or a long phone convo . It definitely takes time and maturity to understand that sometimes it's not negligence on purpose . We're all on different journeys , some of us are single/married, kids, side hustles, battling something personal or just plain busy with life ! Why not spend some time celebrating your friendship?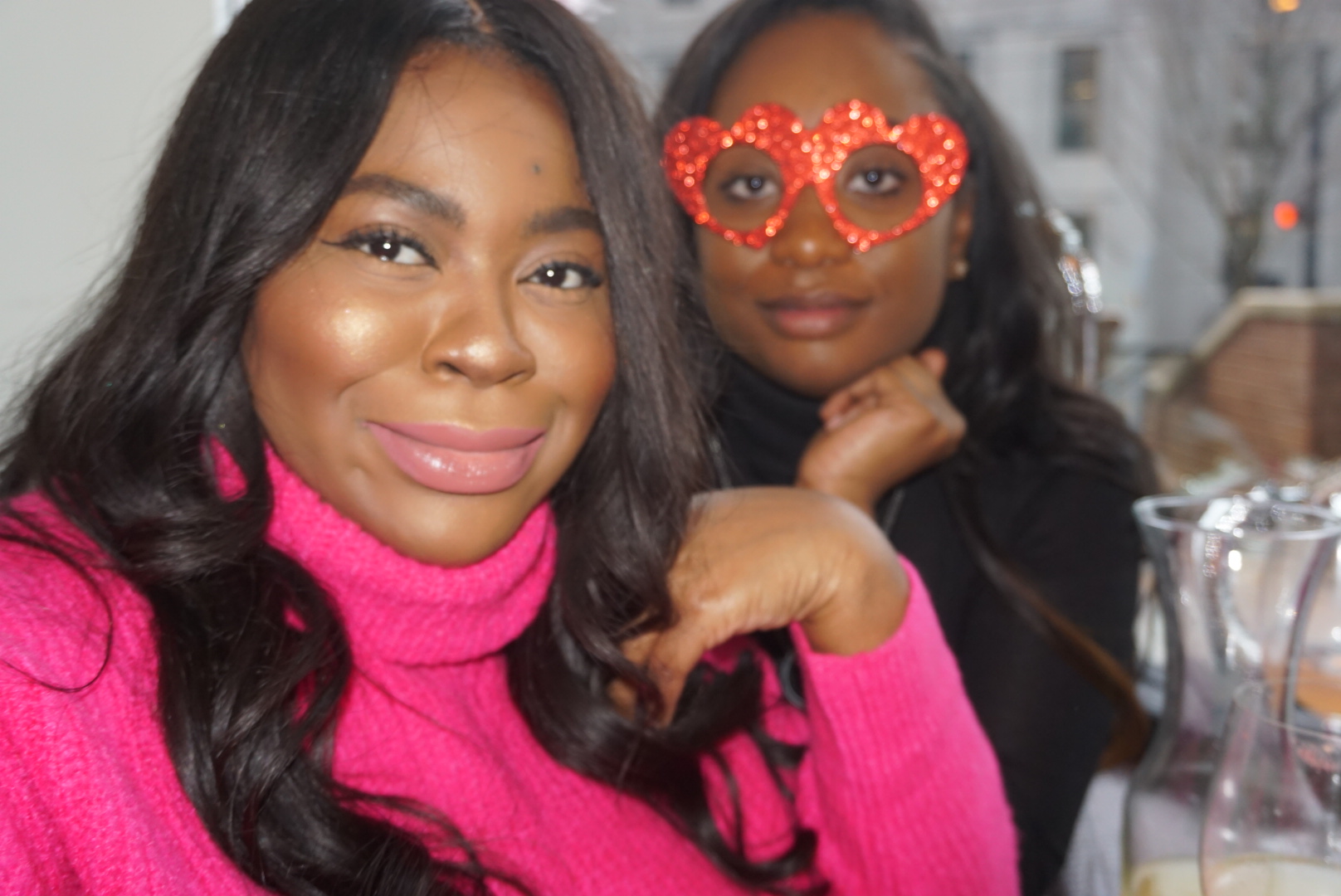 Want to celebrate Galentine's Day the right way ? Pick a date, discuss and plan accordingly ! Some cute ideas are dinner with lots of wines , a small gathering at someone's homes while watching romcoms , brunch and more ! A day trip with your girls would be a great idea as well! I decided to make reservations for brunch rather than staying in. It gave us a chance to try out a new restaurant. I bought the Valentine props beforehand to make it even more festive .


We started with girl talk and beignets ! I loved Louie's Wine Dive version with a cream cheese spread . Then we exchanged gifts and shared our love for one another ! If you have a bigger group of gals, picking names out of a hat is a great idea and makes things easier. Create a budget so no one gets overboard! After the gift exchange, we drank more mimosas and talked about future girl trips and life goals . By the way, the food at Louie's Wine Dive was AMAZING. I will definitely be back for the Chicken and Funnel Cake, such a creative dish! The chicken laid on top of funnel cake crumbles and powered sugar.
I hope I've inspired someone to call their girls and love on each other EVERY DAY, not only for the month of February. Keep encouraging and pushing each other to higher levels. My goal is to do my due diligence to stay connected with gals close and far away . It takes a matter of seconds to reach out to someone ! How are you celebrating Galentine's Day with your tribe ?